First I played with star trails... nothing special, just whatever's visible in my garden. Picked my 50mm prime, then for no apparently reason I set it to f/8 and left it on continuous at 30s exposures. The following is the result after about an hour.
Note to self: use a wider angle lens next time, and maybe point it somewhere more interesting. Also remove the 1st test shot I did hence the gap.
With a wider angle lens and longer exposure, I think I can get a "rainbow" like effect as this is close to south facing. It's interesting the different colours that come out in PP.
While that was going, I noticed the big dipper above the houses across the road so had a go at photographing that too. Here's a 50% crop from one.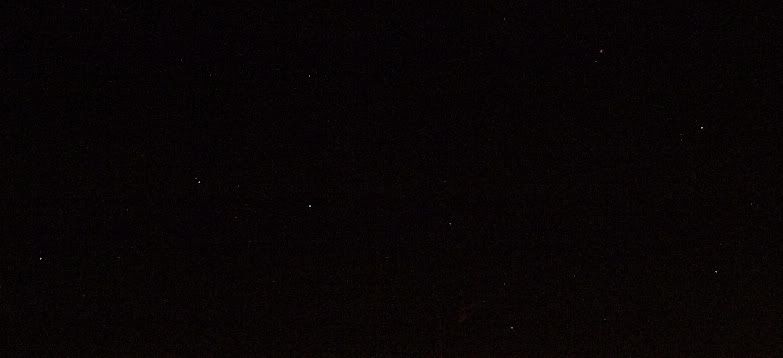 Question for the more experienced star gazers out there. Above the square bit there's two specks close together, and the orange blob caught my attention. I've tried to look them up using the software I got with my scope. The fainter whiteish one fits an item listed as SAO 15580. But there's nothing obvious where the brighter orangey speck is.
As luck would have it, in the time it took me to look at the pics and notice it, the clouds had moved in before I could get my scope out.
I believe I have ruled out a sensor hotspot or lens flare by moving the positioning. The orange speck stays there. Note I did not do any dark frame subtraction on this, and the camera seemed to generate a lot of them.