The telescope arrived today. Been playing with it all evening
Looks great through the eyepiece, but I'm having less luck with photographing from it.
First, let's go back a bit. I have the Sony A350, with the original Tamron 28-300 lens. My moon shots with this have never been sharp, even worse than my old Fuji S5700 at maximum digital zoom. I put it down to the lens, although now I'm not so sure. Later The Olympus E-510 came up used cheap with the 70-300 lens, so I snapped it up. This gave far better results than the Sony combo at 300mm.
Now, with the scope (1325mm f/13) shots of the moon fill most of the vertical frame. Again, it looks great through the eyepiece. I switch to camera, and using the viewfinder I similarly tune to focus. The images that come out look blurry. It isn't due to jpeg output, RAWs look same.
Example of A350+scope (100% crop):
Example of E-510+70-300 (400% crop for similar size):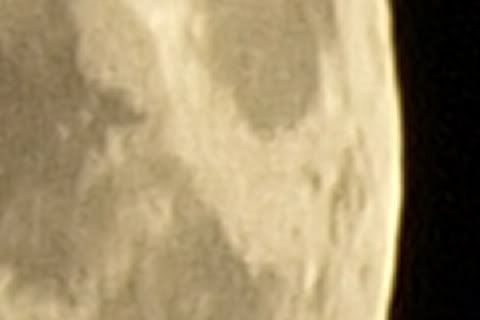 While I can tweak the colours/contrast etc to improve the balance, fundamentally the Sony's output doesn't have any more useful detail.
Some considerations I'm wondering about:
I was using a static mount at the time, and the moon sure moved fast across the viewable area. I don't think this is the cause as it would only blur horizontally right? Exposure times were in ball park of 1/50s, using shorter didn't seem to help.
Mirror flip vibrations? But wouldn't this be in a vertical direction only? I did use cable release.
Combination of the above?
How much does air turbulence influence images? There was a little shimmering early on but it disappeared by the time I got those images.
Could it be simply the A350's software doesn't like this sort of image, where the Oly does better? I have a T-ring on order from China so it will be a little while before I can try that for comparison.
I have even tried focus bracketing. I'm quite sure it isn't the focus.
I can keep myself amused for quite a while yet just using my eye. Like camera stuffs, I got an itch for different eyepieces and maybe filters already... alas Jupiter become visible until quite a bit later, by which time it was already hiding behind some neighbouring trees
Gonna have to find a quiet open spot to go out to I think.