Having seen IR pics elsewhere I fancied a go, and the Hoya R72 I found on ebay arrived today.
Before this, I did give all my cameras the "remote control test" where you point a regular IR remote at it and see if the camera picks it up. My ancient Canon Ixus did, as did the more recent Panasonic FX33. The A350 didn't respond at all in live view. Knowing it uses a second sensor from the main one, I also tried a test shot. This did show light from the remote, but it was much less brighter than that on the compacts.
My attempts with the unexposed developed film trick didn't work too well on the compacts, so I thought I'd try the R72 after all, and found it on ebay for significantly less than UK prices.
I did a quick test at home to confirm the A350 was picking up IR and not just the little red the filter lets through. It did, so later on I went to the local park again. Here's a couple quick shots.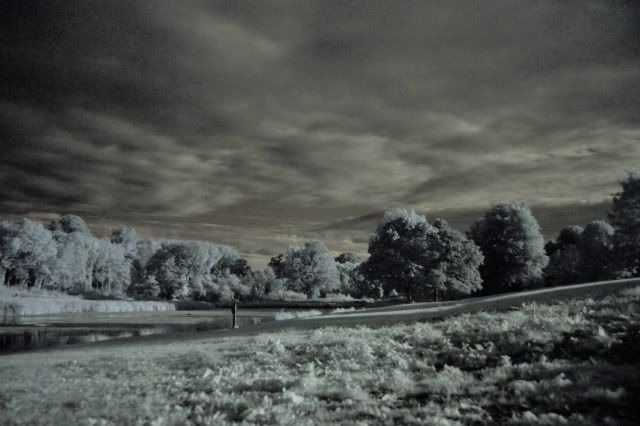 I know they're not the best examples, but this was more a first test to get to know the process better. Both were with the 16-80Z lens at 16mm, f/3.5, ISO400 (from auto setting on camera) and exposure was around 2 seconds. Post processing involved setting the gray point then bumping the brightness curve right over to make it lighter.
Now, I can't say the unmodified A350 is a good camera for IR photography. In my home tests with my 50mm at f/2.8, a normal exposure (no filter) was on the limit at 1/4000s. Without changing any settings, adding the filter made the camera bumped up the exposure time to 4 seconds. So in the region of 1000x slower!
As a further limited observation, when shooting at ISO100 I didn't see any unusual noise problem. The later pics were taken at ISO400, and I'm starting to see some long duration exposure noise even with the long exposure noise reduction turned on.
And all this processing needed to get the image is the first time I see raws as a necessity!
Edit: I found the source of the increased noise at long exposures. It was because I was using raws. Actually I was shooting jpeg+raw. The jpeg did not have the extra noise due to the long exposure. The raw did, as I guess the long exposure noise reduction isn't applied to the raw, and can not be done in the supplied software as far as I can see.