If I have this done right, then for those with bigger monitors you will see the moons side by side, and with smaller monitors you will get them vertically.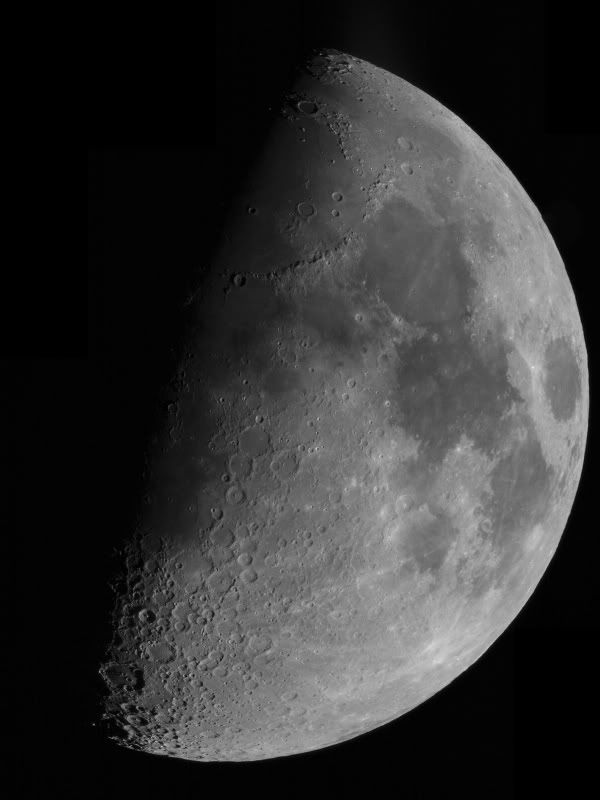 Canon 50D with Celestron Nexstar 4 SE scope and 2x barlow. 1/60s, 2650mm, f/26, ISO1250. This is a stitch of multiple images taken on 6 December 2008, and were my best ever detail shots of the moon to date.
First shot as originally edited. Second is a quick reprocess based on what I do now.
At the time my processing was pretty basic. I'm not sure if I even played with contrast on this shot. I think I did, but left it alone as the... two white spots on lower right would always blow out badly when I did. Also the noise wasn't pretty and I remember making the image greyscale to hide it.
The image on the right is in colour, even if the shades might be a bit subtle to notice. So what have I done differently this time around?
Multiple unsharp mask runs. On the original mosaic I have (44MP equiv) I did at least a couple unsharps on it at large radius (40-80 pixels). This bought out the features without altering the overall image brightness. In this case it works much better than simple global contrast adjustment.
Noise reduction. I set Neat Image to remove 100% chroma noise and 35% luminance noise I think. Chroma noise is unsightly, and while it can affect subtle colours in texture, that isn't a problem here so can fire on full strength. The luminance noise reduction is still a balance between detail and sharpenss, so I went for a low-moderate strength as a balance here. The system is clearly in the diffraction limited region, so pixel level sharpness was impossible at this scale anyway.
When resizing down to the small size image here, I took some additional steps. Firstly I corrected one negative side effect of unsharp, which is an excessively bright border between the moon and sky due to the local contrast boost. I simply selected the sky with the magic wand tool, and expanded a feather into the moon. Press delete, and the white border is gone. I should have mentioned before, but this moon was on a new layer with the original still present in a layer below, so that filled in the border and space again.
And finally to really crisp up the detail, I ran a 0.5 pixel radius sharpen around 30% strength. Subjectively, even balancing the strength I thought it made some crater highlights a bit harsh, so I set the edited layer transparency to 90% to let though a bit of the original.
And that's what's above in the 2nd pic.
It's still not perfect, as the unsharps were blowing some crater highlights so I can still optimise it a bit further there. I might play about with this again before I post a bigger version.