Hi all!
Found this forum while looking for info on how to improve at my new "hobby". Lots of good reading here
Anyway.
My wife and I've been active in photography for a few years now... my wife primarily doing nature photography while I'm more of a technical one - aircraft, military equipment, etc.
Just this past weekend, we were out at a local park as it was getting dark. The wife was shooting her stuff, and I got a little bored and picked up our other camera and pulled out the tripod, figuring on trying to get some shots of the Moon. After getting a few, I noticed Venus (I think it was, anyways) was out, so I turned the camera on it. I took a couple of longish exposures of it then decided to see what I got.
When I zoomed in on the replay, a line from "2001" went through my mind - "It's full of stars!" I believe that I'm now hooked.
We went back tonight and I started trying for shots in earnest. Got a couple nice ones...
(Click on thumbnails for bigger versions)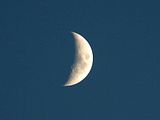 Obligatory Moon shot
Venus?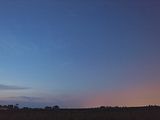 Shot of the evening sky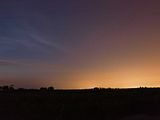 Another shot
A shot of the skyline
(Seems like some detail was lost
They look good if you can really zoom in on them.)
Minimal post-processing was done to each - my main PC (with my Photoshop) is down, so all I was able to do is the basics... cropping, lightening, etc.
Here's my equippage:
Olympus E510 w/ the kit lenses (a 14-42mm f/3.5-5.6 ED and a 40-150mm f/4-5.6 ED)
Sony H5 w/ 1.7 tele-extender
Sony F717
Some sort of cheapie (and margainally sturdy) collapsable tripod
Not the fanciest set-up, but it's all we have for the immediate future - at least it's easy to pack around
Take care!
Floyd.