The night was clear, so I couldn't resist having another go. Did an alignment on the scope, and it worked. Still get slight trailing but at least what I point my little scope at would stay there for tens of minutes unlike normal.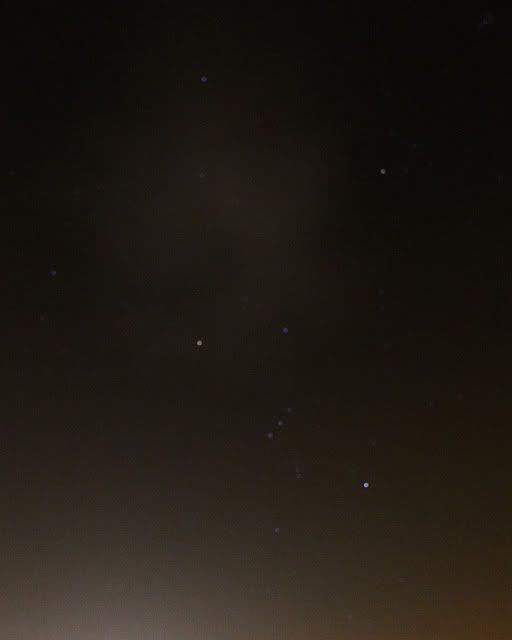 No sooner had I stepped outside with the scope did the neighbours opposite activate their zigawatt beam. It did prove fun watching it light up my breath, and the defocused Orion in the background shows up the star colours nicely. I'm a little surprised the camera found focus on anything.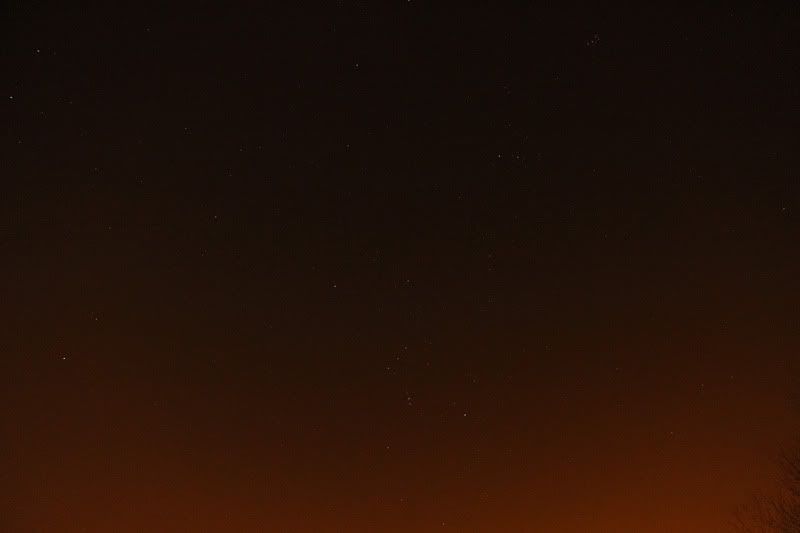 With that off again, here's a bigger picture to set the scene. Still lots of light pollution.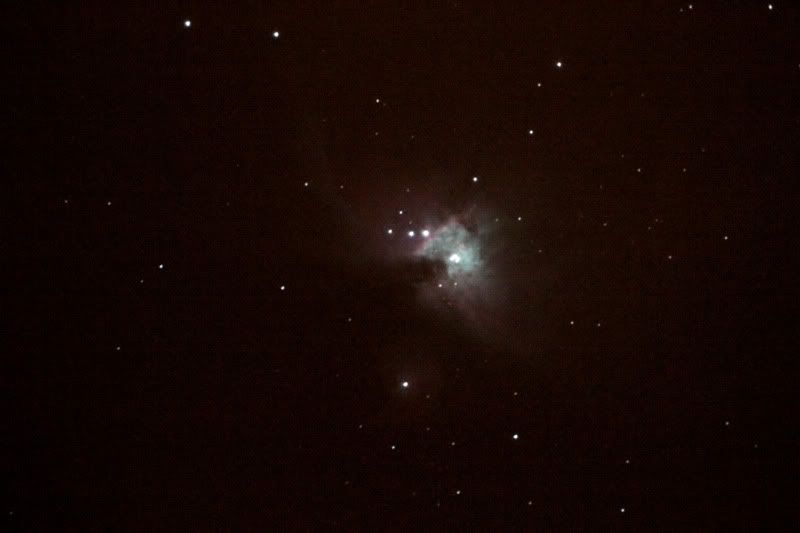 Here's a go at the nebula, single shot shown. So many problems getting this far... I couldn't get the stars pin point sharp in focus. At best, they formed a little "v" shape. That was moot anyway, since the tracking wasn't perfect and I had short trails even on exposures as short as several seconds. Then when I had it "good enough", I locked the remote release and went inside. Went back out, it sat there doing nothing. I forgot to put continuous mode on. Doh! With that set, I tried again. It took a single shot and stopped. This was confusing me. I fiddled about with silent shoot, and switching between live view and normal shooting, as well as some other settings I still don't understand after RTFM. Long story short, shortening from 10 sec exposures to 5 secs seems to make it work for a bit, then going back to 10 still worked.
Reviewing the captured images, the shift seemed irregular. Could there be a slight wind catching the setup? Or something else?
I've got Iris chewing on some images now so hopefully that'll help clean up the noise a bit. Rather stupidly I didn't try putting on the light pollution filter when using the scope.
Maybe I'll try again tomorrow, weather allowing.
I have a very long way to go to anything like
this
...