I had a quick look on a star map and saw that Saturn should be high up. But could I find it? I wasn't familiar with the constellations currently up there, plus the light pollution seemed fairly bad tonight and what I saw with my naked eye was something like this:
There were some more stars outside that, but in that region that's all I could see. Chertan was barely visible with naked eye. Having located what I thought was Saturn, I pointed my scope at it. It was cloudy earlier on in the evening so I didn't check until very late. It was getting on to midnight so I didn't want to make a noise outside. I used a desperate method. I shot through the double glazed patio doors. I know that wouldn't help quality.
Anyway, pointing at what I thought was Saturn with eyepieces giving a magnification from 54x to 270x, I saw, at best focus, a long blob. Sticking the camera on, I got this: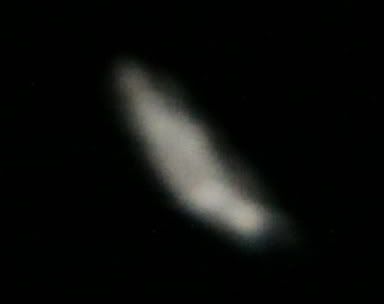 100% crop, 1/2s, ISO1600
To verify if my focus was on or not, I moved the scope to the brightest point object, which I think is Arcturus. I got this at best focus: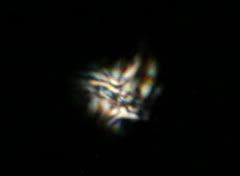 100% crop, 1/10s, ISO1600
The pattern was largely static and didn't change. Must be some serious diffraction going on somewhere, probably the windows as they're not in the best condition or cleanness.
Weather allowing, of course I'll have another go another day but realistically I don't expect to get any more resolving ability. The annoying thing was there was very little wobbling due to air movement, but the moon was too high up for me to shoot.