Feels like a long time since the last one? Got home from work, looked up and saw a half moon high in the sky. So I shot it.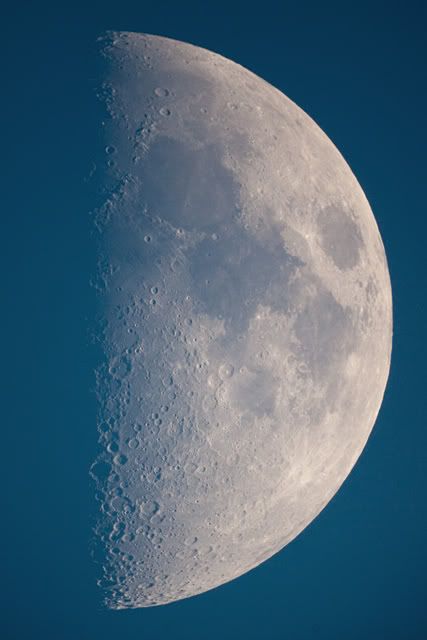 1325mm, 1/50s, f/13, ISO200 - click image to go to dA to download original size 1.8MB.
I tried things a little different this time. Normally I'd leave the ISO fairly high to keep shutter speeds down. I kinda hope a fast shutter will mitigate wobbly air blurriness. But I wondered what a low ISO shot would be like. I'm quite surprised but it does reveal more fine detail that would normally be lost to the high ISO noise. Not that the 50D is bad at ISO1600, for normal shots it's highly usable. But in this case we have low contrast high detail, and a lower ISO does reveal that bit more detail.
PP: fiddled about in ACR with high contrast and slight desaturate as the blue sky got rather too blue and unnatural otherwise. Crop, slight sharpen and save to jpeg.
I did also try with the 2x barlow, but the shots I got from that suffered from a bright spot in the middle of the image. I've long suspected I had that, but I guess with the bright sky it made it really stand out this time. Will have to find and dull down the offending reflecting surface later.